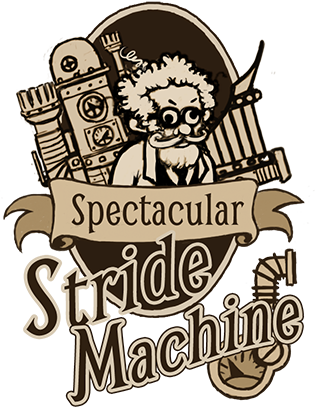 Spectacular Stride Machine
Spectacular Stride Machine is an endless runner with balance control mechanics about one of the forgotten steam inventions and it's owner.
Back in 1876, England:
"It's alive! I was finnaly able to make it move! My SPECTACULAR STRIDE MACHINE! MWAHAHAHA! Time for a walk to the patent office! Let's see who has the last laugh then!" - Unknown inventor.
Today, Lithuania:
Team KAMAN has found some old blueprints of an unknown machine. It was a gadget invented by a scientist [UNREADABLE NAME], who lived in Victorian England and used steam as the main source of power for his inventions. Unfortunately, the mechanism seems to be nonfunctioning and impossible to make.
---
Instruction:

Avoid obstacles by changing the height of the Stride Machine.
Keep balance by adjusting the tilt of the Machine.
Controls:
Arrows left/right - Lean machine left / right
Arrows up/down - Adjust height level of the machine
Team KAMAN:
Ksenia Shatunova @xushaw – art
Anton Kolchunov @garfeild – coding
Monika Anastasija Daunyte @artisacurse – art and animations
Andrew Vasiliev @Andrew_Chewie – coding
Nika Tomenko @kys_violet – art